The works of French Moroccan artist, Sara Ouhaddou, are born out of the movement between cultures and territories, in search of new dialogues. Her life and her approach resemble that of a "passeuse", a person who shares and propagates a work, or knowledge between two cultures or two eras. From the Atlas Mountains in Morocco where her ancestors are from, or the region of Aomori in the north of Japan where she has resided, she has made her fascination for ancient cultures the guiding principle of her work, and a roadmap through an interdisciplinarity of forms, of mediums, and of expertise that renders her work so unique. Born in 1986 in the South of France into a family of Moroccan origin, Sara Ouhaddou has grown up with a double culture that has shaped her artistic approach. Installations, paintings, silkscreens, embroidery, ceramics… the diversity of the means she convokes testifies to a mobility of form at the mercy of her narrative projections.
Her work questions cultural heritages and their transformations through generations, based on research at the crossroads of archaeological and anthropological approaches. At the same time, she examines ancient objects to extract from them material or immaterial traces left by history. Interested in the origins of language and the first forms of pictographic writing, she catalogues the signs and symbols that are present on these objects as well as their original meanings linked to the territories where they were created. In a dual quest for continuity in passing down, but also for reinvention, these signs and symbols are then translated into different forms in her works, often co-created with her friends, and family, as well as with the craftspeople whose skills are now in danger of disappearing.
Based on this complicity between the emergence of a language and its milieu of origin, her project Atlas/Aomori which began in 2018, creates a dialogue between two geographies and their original population: the Amazigh1 in the Atlas Mountains and the first inhabitants to settle in the Aomori region in the Jōmon period (from -13 000 to circa -300 BC). In support of this long-term project, Sara Ouhaddou has begun to create a vast mental cartography to organise her research. Entitled "A Shared Memory", it has steadily expanded. Photos of objects and landscapes, notes and symbols seem to come alive, with the arrows and flows of thought that connect them from one time period to another, from one geography to another. Since their first appearance on ancient pottery, rugs or embroidery to their recurrence on contemporary objects, these abstract symbols and the concepts that they represent thus sketch out the interactions and associations imagined by the artist, and new lines through time and space.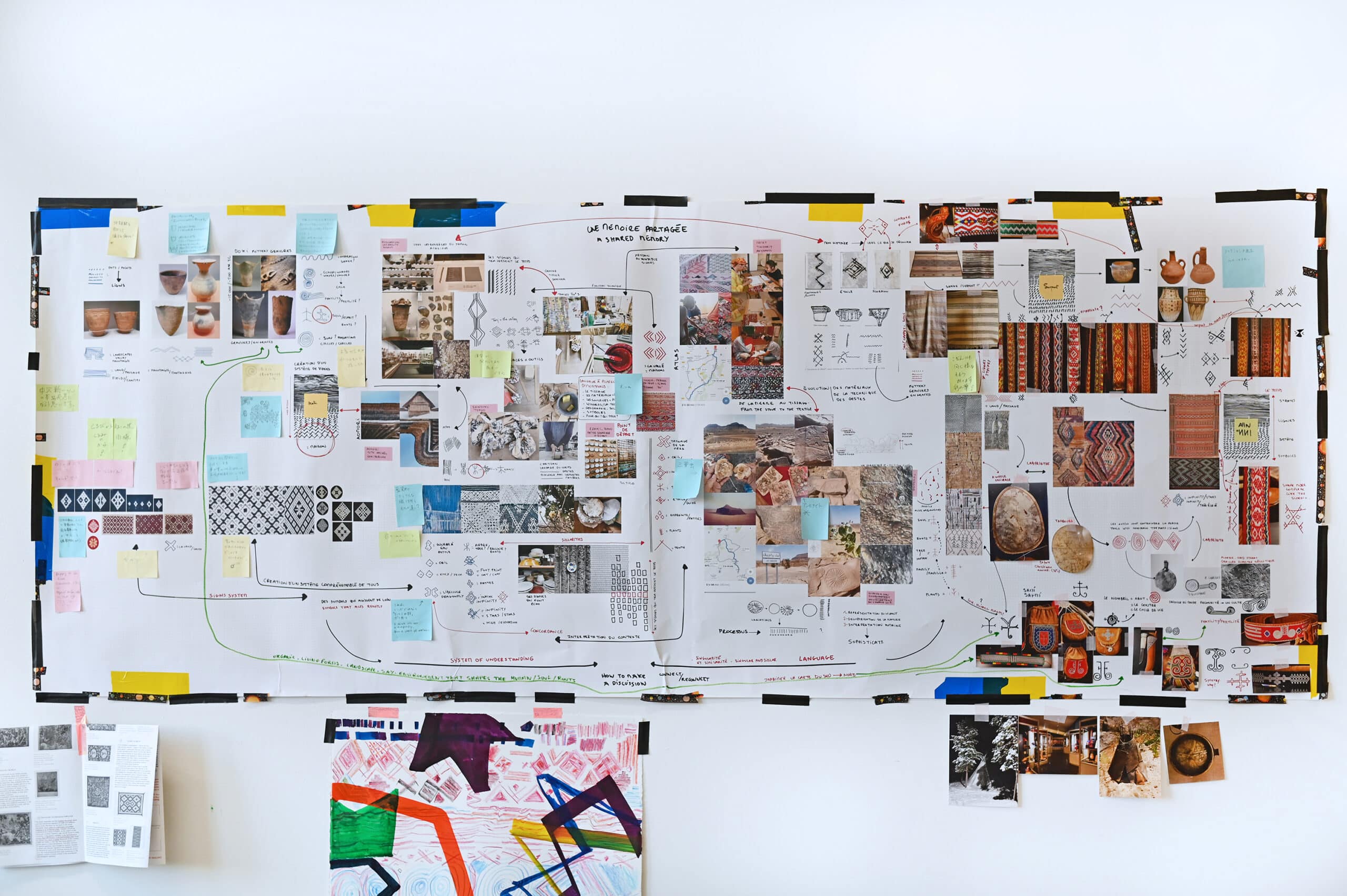 For PALM, we chose to put this mental map into words, by using it as the medium for a discussion filmed in real time with a mobile phone, in which the movements of the camera reenact the flow, wanderings and the epiphanies linked to this research project. The video presented here is neither a work of art, nor an interview as such, but rather the precious testimony of a thought in motion — that which shapes the works of Sara Ouhaddou and which, through the objects that surround us, endeavours to recount these links that are as persistent as they are precarious and which bind us to our environments and their temporal density.

Élodie Royer
Translated by Jacqui Chappell

1 A North African people, the Berbers, whose presence predates Arabisation and Islamization, call themselves Imazighen, the plural form of Amazigh, which means "free man".