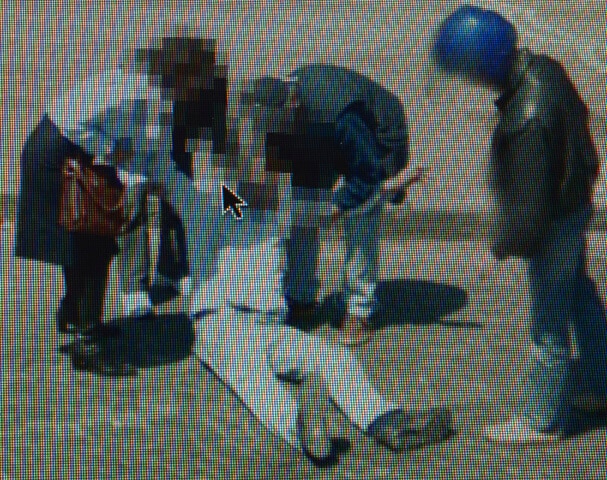 Online creation
A SERIES OF UNFORTUNATE EVENTS - MICHAEL WOLF
As part of "Print error / publishing in the digital age"
From 23 October 2012 to 07 April 2014
Jeu de Paume Online
A series of unfortunate events by Michael Wolf is part of the exhibition "Print error / publishing in the digital age" proposed by Alessandro Ludovico, for the Jeu de Paume virtual space.
Michael Wolf uses his photographic skills to "shoot" pictures within the world of Google Street View, where city streets are viewable in a weird digital and photographic continuum. He takes "pictures" cutting out meaningful and universal elements and perspectives, which become fully entitled "photographs." In "a series of unfortunate events" he transforms accidental details into images, with their "screen-y" texture left untouched to emphasize the ephemerality of their origins. It's not a semi-automatic gathering of material (like the classic approach: a certain number of pictures from Google Images which fall into the criterium of choice), but an attentive selection of something which shouldn't be in Google's aseptic representation of reality (but ultimately found its place), turning out to be already a classic in Goggle Street View related art. The frozen instant of the industrial street mapping is then exploited in its unsuspected qualities, parasitized through aesthetic, human, metaphorical or technical errors. In the growing galaxy of the "printed web" Wolf assembles then a unique photographic book, with all the classic elements of this format (the paper, the layout, the captions), but perfectly interpreting at the same time how photographs should be taken within a popular digital environment.
The focus of the German photographer Michael Wolf's work is life in mega cities and documenting the architecture and the vernacular culture of metropolises. Wolf grew up in Canada, Europe and the United States, studying at UC Berkeley and at the Folkwang School with Otto Steinert in Essen, Germany. He moved to Hong Kong in 1994 where he worked for 8 years as contract photographer for Stern magazine. He then withdrew from editorial photography in order to pursue his own projects.
Wolf's work has been exhibited in numerous locations, including the Venice Bienniale for Architecture, Aperture Gallery, New York; Museum Centre Vapriikki, Tampere; Museum for Work, Hamburg, and the Museum of Contemporary Photography, Chicago. He has won first prize in the World Press Photo Award Competition on two occasions in 2005 and 2010 and an honorable mention on 2011.
https://photomichaelwolf.com/