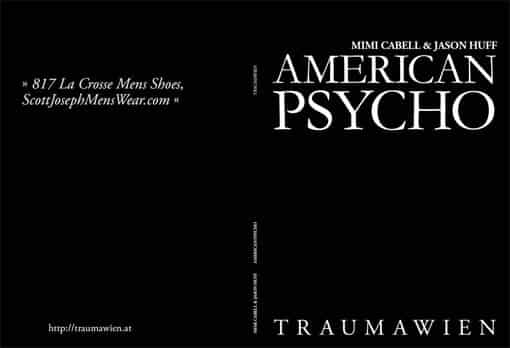 Online creation
AMERICAN PSYCHO - MIMI CABELL & JASON HUFF
As part of "Print error / publishing in the digital age"
From 23 October to 07 July 2021
Jeu de Paume Online
Cyclisation by Olaf Hochherz is part of the exhibition "Erreur d'impression publier à l'heure du numérique" proposed by Alessandro Ludovico, for the Jeu de Paume virtual space.
The processual transformation of a book through digital means has been tested by artists and writers since the early computer era. The infinite programmability of software can create endless new texts (which still make sense in a way or another) processing an initial one.
American Psycho is the result of a processual transformation: the entire text of Easton Ellis' homonymous book was sent page by page between two GMail accounts. The contextual advertisements, generated by Google through specific keywords arbitrary isolated from the rest of the text, become the final text of the Cabell/Huff book. Those advertisements are printed as footnotes, deleting the original Easton Ellis' text. So the book is made out of blank pages with only the note's numbers placed where the keywords were printed in the original version, and the respective ads/footnotes. Here the original text becomes a processed medium, through which the authors freeze a picture of the digital/economic climate, like a metaphorical photograph. It's a unique one, not replicable, because it's generated by that specific text, during that specific time. The result is then a hybrid work, classic in its form and uniquely generated in its content.
MIMI CABELL & JASON HUFF
Mimi Cabell was born in Nanaimo, B.C., Canada. She received her BFA in photography from Ryerson University, her MFA in photography from the Rhode Island School of Design, and is currently completing her MFA in electronic writing at Brown University. She is presently working on her first novella, These Parts, and a conceptual text based on Pauline Réage's 1954 erotic novel Story of O. Her work is part of the Library of the Printed Web, and the Revista Laboratorio at the Escuela de Literatura Creativa in Santiago, Chilehttps://www.mimicabell.com/
Jason Huff lives and works in Brooklyn, NY. He received his MFA from the Rhode Island School of Design. His work was recently exhibited in the Young Artists' Biennial in Bucharest, « Collect the WWWorld: The Artist as Archivist in the Internet Age » at 319 Scholes gallery in Brooklyn, NY and the Library of the Printed Web. He writes for rhizome.org and his work is included in the Special Collections at the Whitney Museum of American Art.
http://www.jason-huff.com
TRAUMAWIEN started as a publisher for hybrid prints in 2010 and is acting as an artists collective. Their last digital project was 'Kindle'voke Ghostwriters'.
Summer catalogue 2013 will be presented May 25th at Forum Stadtpark Graz during a « Karaoke Rave Lecture ».
http://traumawien.at/About/