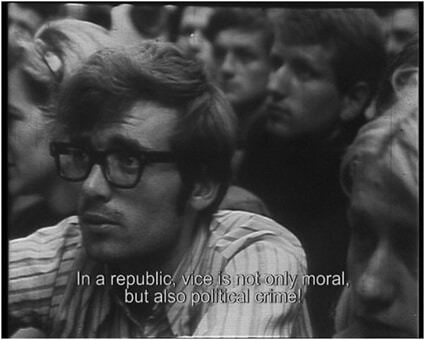 Cinema
Confrontations in Relentlessness
Screenings and talk in relation with the exhibition "Nika Autor. Newsreel – The News Is Ours"
Tuesday 06 May 2014 • 6:00 PM
As a type of subversive documentary and essayistic film practice, newsreels in former Yugoslavia were a rare, but most precious form of political cinema. In the 1960s, committed filmmakers used them to probe the neuralgic areas that the media subordinated to the ruling ideology steered well clear of 45 years later, a new newsreel front of political cinema is emerging in Slovenia, again peering into devastation, this time left behind by the maelstrom of rampant capitalism. By confronting past works and creative initiatives of the present, we will revive the question of the necessity of committed film journalism in various socio-political constellations.
PROGRAMME
> Zapisnik (Minutes, 1964, 17′) Aleksandar Petrović / Dunav film, Belgrade.
> Suza na licu (A Tear on your Face, 1965, 11′) Stjepan Zaninović / Zastava film, Belgrade.
> Lipanjska gibanja (June Turmoil, 1969, 10′) Želimir Žilnik / Neoplanta film, Novi Sad.
> Karl Marx med nami (Karl Marx Among Us, 2013, 47′) Jurij Meden / Kino!, Ljubljana.
With the participation of Andrej Šprah, Jurij Meden and Ciril Oberstar.
Andrej Šprah is a film theoretician and writer. He is a member of the editorial board of KINO! and a professor of film theory at the Academy of Visual Arts in Ljubljana.
Jurij Meden is a filmmaker, director of programming at the Slovenian Cinematheque in Ljubljana, and a founder of KINO!, a magazine devoted to film theory, politics and poetry.
Ciril Oberstar has a master's degree in philosophy and is an editor of the Slovenian cultural magazine Dialogi.
In the presence of Nika Autor, artist, and Nataša Petrešin-Bachelez, curator of the 7th Satellite programme.
This event is organised in collaboration with the Slovenian Cinematheque, Ljubliana, and the Military Film Center "Zastava film", Belgrade.
Thanks to the Embassy of Slovenia in Paris and to the the Embassy of Serbia in Paris.
> At the auditorium, Tuesday 6 May at 6pm. Free entry (limited availability). In English.