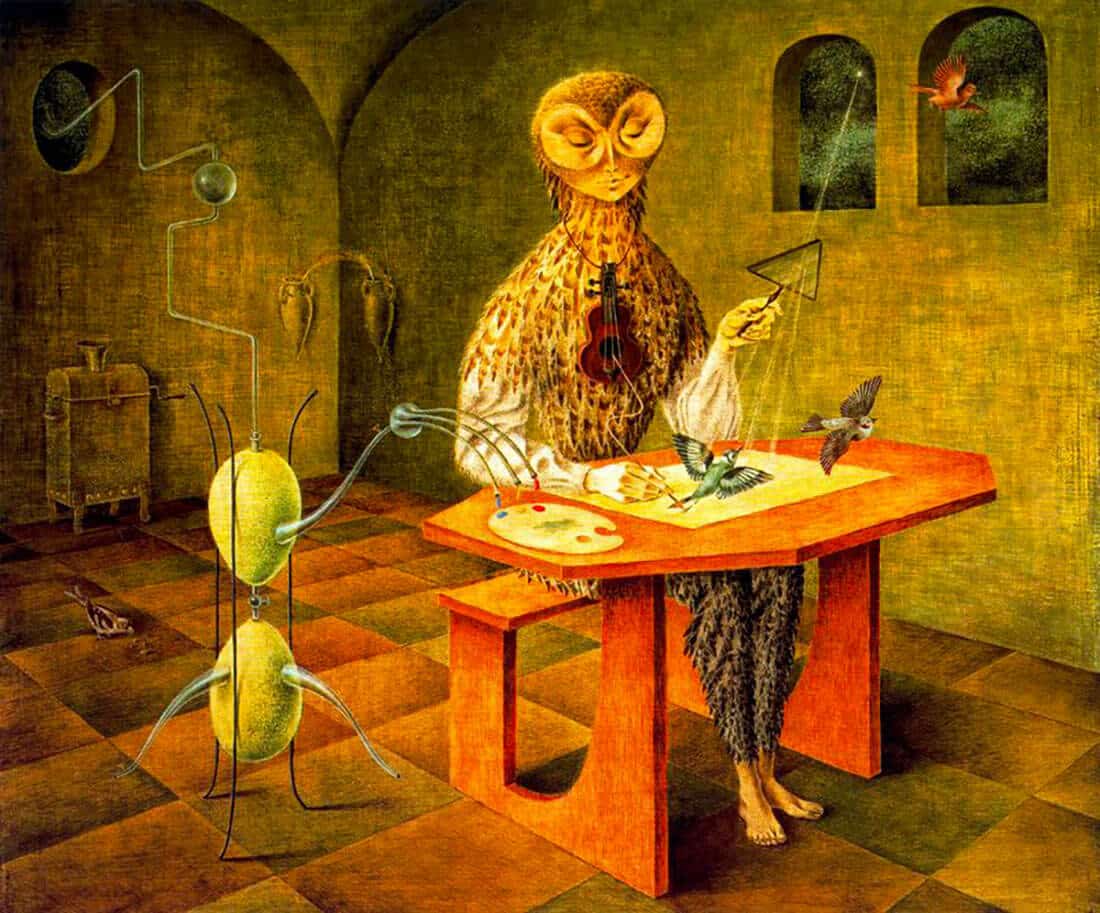 Online creation
CREACIÓN DE LAS AVES -REMEDIOS VARO
Dans le cadre de A propos du Chthulucène et de ses espèces camarades
From 01 October 2017 to 31 May 2018
Jeu de Paume Online
The Museum of he History of Cattle  by Terike Haapoja et Laura Gustafsson is part of the project "A propos du Chthulucène" proposed by Maria Ptqk for the Jeu de Paume virtual space.
The complex pictorial work of Remedios Varo can be interpreted as a delirious review of the canons of modern science, a naturalism of the supernatural in which there are resounding echoes of the subgenre of "weird fiction" initiated by H. P. Lovecraft. The strictness of her refined compositions, which refer to the geometrical structures of the classic artists of the Renaissance, contrasts with a disturbing imagery that spills beyond the borders of each picture and spreads out into an enigmatic oeuvre that, in the opinion of the historian Tere Arcq, needs to be opened with several keys at the same time: literary, oneiric, surrealist, architectonic and, especially, esoteric.
Remedios Varo's work is, perhaps above all else, a search for a mystical experience in contact with the mechanisms that create order in the natural world. The cabbala, alchemy, the tarot and magic accompany a precise but phantasmagorical representation of planets, landscapes, laboratory instruments, birds, plants, insects and other creatures. Creación de las aves (Creation of the Birds, 1957), which belongs to her last creative period, also alludes to the mythopoeic role of the artist as a "maker of worlds", a creator of magical systems that open and close within each other.
Remedios Varo
The biography of Remedios Varo (Anglés, 1908 – Mexico City, 1963) is marked, like her work, by intersections. She was born in Catalonia to a freethinking Andalusian father and a very religious Basque mother. As a child, encouraged by her father's professional activity, she began to learn the rudiments of industrial drawing. She was one of the first women to be enrolled in the famous Academia de San Fernando in Madrid, where Dalí and Maruja Mallo also trained. At the beginning of the Civil War she fled to Paris and established relations with Breton's circle. In 1941 the German occupation led her to move to Mexico, where she developed the most important part of her artistic career, marked by contact with the occult sciences (through the work of the esoteric writer G. I. Gurdjieff) and by her relationships with other artists and intellectuals, such as Leonora Carrington. Her work began to be recognised in the 1950s, and now she is considered one of the most important artists of Mexican modern art.
http://remedios-varo.com/biografia/