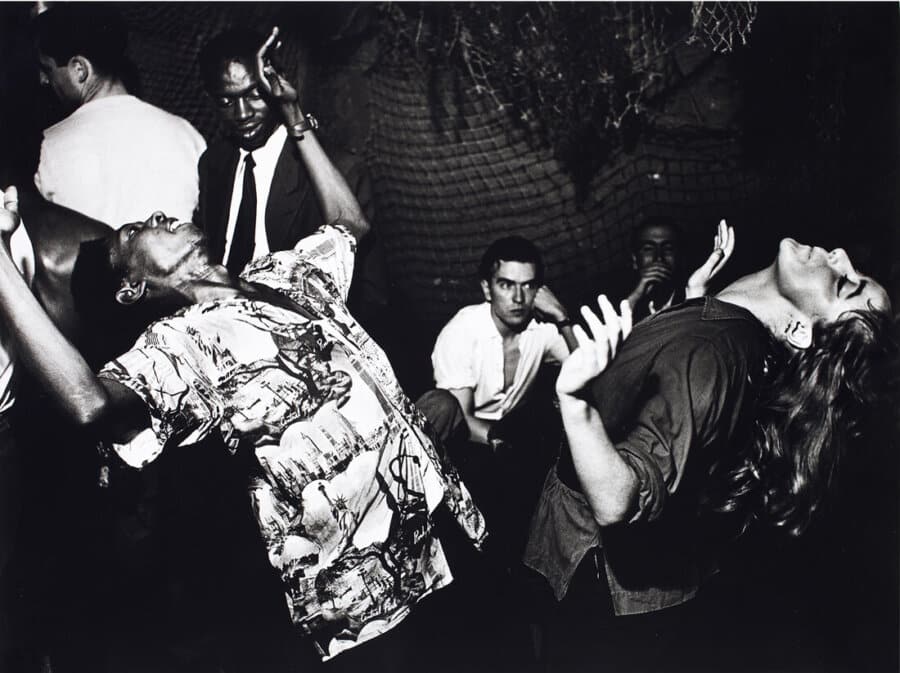 Exhibition
Ed van der Elsken
Camera in Love
From 13 June to 24 September 2017
Jeu de Paume – Paris
Watch the video portrait:
Ed van der Elsken (1925-1990) is a unique figure in Dutch 20th-century documentary cinema and photography. As a photographer, his preferred subject was the street, and in cities like Paris, Amsterdam, Hong Kong or Tokyo, he enjoyed 'hunting' for subjects. Often qualified as a "photographer of marginal figures", he sought in reality an aesthetic form, a visual authenticity, devoid of artifice, a beauty that was sometimes openly sensual, at times even erotic. Ed van der Elsken was fascinated by these proud figures, full of life and vitality.
The exhibition at the Jeu de Paume presents a large selection of some of his most iconic images: shots of Paris from the 1950s, figures photographed on his numerous travels or in his native Amsterdam from the 1960s onwards, as well as his books, and excerpts from his films and slide shows, particularly Eye Love You and Tokyo Symphony.
Van der Elsken photographs and films his subjects in situations that are often theatrical, and he behaves like a director, engaging in conversation with the people he photographs. He likes to be provocative and encourages his subjects to exaggerate or accentuate certain personality traits he detects in them. In addition to his theatrical, extravagant photography, Van der Elsken has also produced a large number of understated and moving images, revelatory of his poetic nature, his innate sense of solidarity with others, and his profound empathy for all living creatures.
Van der Elsken published approximately twenty books and produced a large number of films. His first book, Love on the Left Bank, was published in 1956. Taking the form of a banal but rather unusual photobook, Love on the Left Bank is a semi-fictive account of disaffected young people, living in Paris after the Second World War. The dark tone and expressive approach, as well as the book's almost cinematic quality contributed to its instant success. Love on the Left Bank was followed by a number of photo documentaries from his travels: Bagara (1958) featuring photographs from his trip to Equatorial Africa, and Sweet Life (1966), from his round-the-world journey in 1959-1960.
Jazz (1958) is also worth mentioning. The book is a vibrant ode to the explosion of jazz
music on the Amsterdam scene. In the 1980s, he published photobooks on Paris and Amsterdam, as well as De ontdekking van Japan (The Discovery of Japan) based on his numerous trips to Japan, and colour publications: Eye Love You (1976), depicting photographs from around the world against the backdrop of the liberal atmosphere of the 1960s and 70s, and Avonturen op het land (Adventures in the Countryside) (1980), Van der Elsken's tribute to life in the polders in the northern Netherlands.
[…]
The exhibition is organised by the Stedelijk Museum Amsterdam in collaboration with the Jeu de Paume.
With special thanks to Anneke Hilhorst and Han Hogeland, Nederlands Fotomuseum Rotterdam, the
Special Collections Department of Leiden University, EYE Film Museum Amsterdam, Netherlands Institute for Sound and Vision, Hilversum, Annet Gelink Gallery Amsterdam and Paradox Edam.
This exhibition is part of Oh ! Pays-Bas, Dutch cultural season in France 2017-2018.
Media partners: À Nous Paris, de l'air, Time Out, Transfuge, Paris Première, France Inter.
Thanks to the Hôtel Napoléon Paris.
Curator : Hripsimé Visser
TOUR: Fundación MAPFRE,
Madrid, 23 January – 20 May 2018