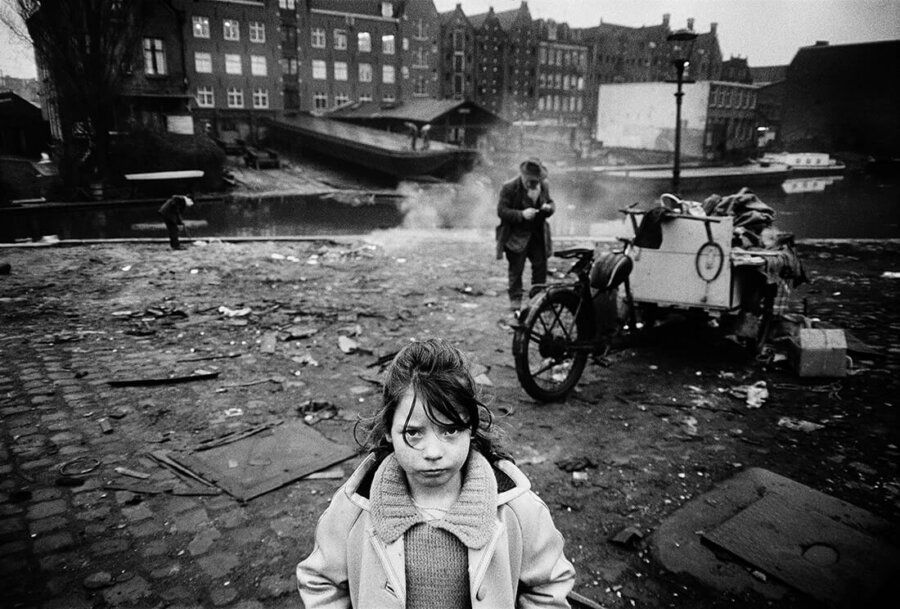 Exhibition
Koen Wessing
The Indelible Image
From 17 November 2018 to 02 June 2019
Jeu de Paume Tours
Watch the video portrait of the exhibition:
The exhibition "Koen Wessing, The Indelible Image" presents a collection of photographs selected, more often than not, with the approval of Wessing himself. Wessing's work reflects post-Second World War history: decolonisation, violence and brutality in Latin America, the collapse of the Soviet bloc, the war in Yugoslavia, apartheid in South Africa and the resurgence of China.
The Jeu de Paume – Château de Tours presents a selection of 80 prints, as well as screenings and a
filmed interview with Dutch filmmaker and director of photography Kees Hin.
Koen Wessing was born in Amsterdam in 1942 during the German occupation. His father, Han Wessing, was an interior designer; his mother, Eva Eisenloeffel, a sculptor. He died in 2011, just before a trip to Chile. He was very ill but had wanted to go to the vernissage of "Imágenes Indelebles / Indelible Images", the first exhibition in Santiago of his famous photographs of the 1973 military coup and the overthrow of the Salvador Allende government.
Koen Wessing grew up after the war in an intellectual milieu in the Netherlands. Many of his generation were highly aware of the violence, misery and genocide that only ended immediately
before or after their birth; they were brought up in the climate of reconstruction, resilience, optimism and social progress that shaped their teenage years. Several great photographers had helped produce false papers for the benefit of Jews in hiding, or taken harrowing photographs of the last winter of the Second World War, the "winter of hunger," during which thousands of Dutch people died. This is what documentary press photography was all about at the time, alongside photographs
that glorified the reconstruction of the Netherlands. Both genres were deeply rooted in the new photography that had emerged between the two world wars.
A younger generation of Dutch photographers, Ed van der Elsken, his Hungarian wife Ata Kandó, Johan van der Keuken and many others, began travelling and working abroad at that time, and Wessing taught himself to become a photographer, working as an assistant to Ed van der Elsken for two years.
A born globetrotter, Koen Wessing began by hitchhiking across Europe. Later, he would often finance his travels by borrowing money and going wherever the fancy took him. In May 1968, it was to Paris. In 1969, he took photographs in Het Maagdenhuis, the occupied administrative centre of the
University of Amsterdam – he built a temporary footbridge across an alleyway between the university and the building next-door to circumvent the police blockade and get his rolls of film out for
processing. The story became a legend.
Like famous phrases that you never forget once you've read them, some of Wessing's images remain etched in your memory as soon as you've seen them. They don't seem to relate to a particular moment in the past, but to something more universal. His photos show us the "god-forsaken of the earth", but without dehumanising them, without making victims of them: they remain fellow human beings. Koen Wessing often sought out people who were mourning the dead he had encountered, or
people searching for their disappeared loved ones – their "desaparecidos".
Koen Wessing was the author of many books, including Chili, September 1973; Nicaragua '78; Flashes from South Africa; From Chile to Guatemala: Ten Years in Latin America; Koen Wessing in China and Tibet; Fotografía. El arte de visibilizar la pregunta. His work has featured in many solo and group exhibitions, including "Nicaragua en El Salvador" and "Koen Wessing and Susan Meiselas".
Curator : Jeroen de Vries
Exhibition organised jointly by the Jeu de Paume and the City of Tours.
With the support of the Embassy of the
Netherlands in France.
Thanks to the Nederlands Fotomuseum
Media Partner : A NOUS PARIS