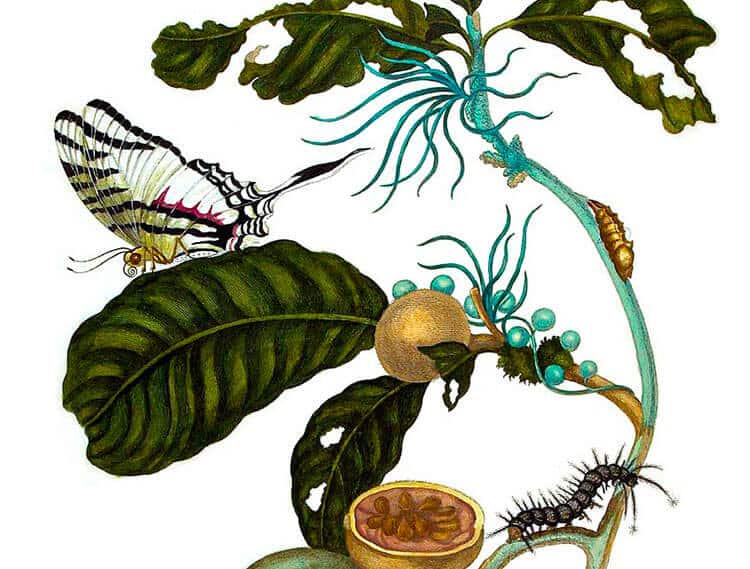 Online creation
MÉTAMORPHOSE DES INSECTES DU SURINAME - MARIA SIBYLLA MERIAN
As part of "A propos du Chthulucène et de ses espèces camarades"
From 01 October 2017 to 31 May 2018
Jeu de Paume Online
Métamorphose des insectes du surinames by Maria sibylla Merian is part of the project "About the Chthulucene" proposed by Maria Ptqk for the Jeu de Paume virtual space.
The Metamorphosis of the Insects of Surinam, published in 1705 by the naturalist Maria Sibylla Merian, is a work of scientific enlightenment that marks a turning point in the history of entomology. Merian was the first person to give detailed documentation of the life cycles of insects and contradict the standard thinking of the time, which considered them to be creatures of the Devil generated spontaneously in the mire of putrefaction. Her numerous precise visual records, which show the complex symbiotic relationships of insects with flowers, anticipate the concept of symbiosis, a term that was not coined until the nineteenth century. Her classification of moths and butterflies, covering as many as 186 species, is still used today.
Written originally in Latin and Dutch (at a time when scientific works were only published in Latin), The Metamorphosis of the Insects of Surinam was also the first work to give graphic representations of the flora and fauna of the Dutch colony, together with the names and uses of the plants in local indigenous cultures.
Maria Sibylla Merian
The explorer, illustrator and naturalist of Swiss origin Maria Sibylla Merian (1647-1717) is considered as one of the initiators of modern entomology. At the age of 28 she published her New Book of Flowers, followed by a study on The Caterpillars' Marvellous Transformation and Strange Floral Food. When she was 52 she separated from her husband and set out with one of her daughters on a journey to the Dutch colony of Surinam, on the northeast coast of South America, where she made extensive observations of insects, especially butterflies, which gave rise to her magnum opus. On returning to Europe she devoted herself to illustration classes and the sale of natural pigments that she made herself. Her work is a landmark in the history of scientific illustration and in that of the natural sciences.
http://www.sibyllamerian.com/biography.html