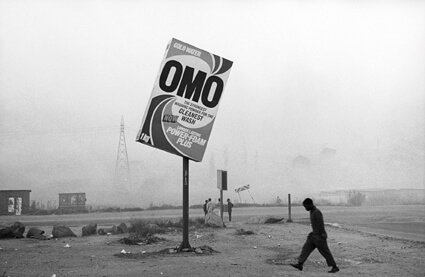 Extramural
Santu Mofokeng, Chasing Shadows – 30 years of photographic essays
Bergen Kunsthall
From 13 January to 26 February 2012
Jeu de Paume Extramural
The exhibition and the accompanying book bring together a unique selection of the photographic essays made by Santu Mofokeng over the last thirty years.
Well-known from his projects Black Photo Album/Look at me: 1890-1900s, Township Billboards: Beauty, sex and cell phones, Trauma Landscapes and Chasing Shadows, the South African artist took the opportunity of the invitation for this show and the production of his first comprehensive monograph, to delve deep into his artistic archive.
"Santu Mofokeng, Chasing Shadows – 30 years of photographic essays" presents a selection of more than 200 images (photographs and a slideshow), texts and documents. The photographic essays he composed over the years, some of which are a life-long work in progress, range from the Soweto of his youth, from his investigations of life on the farms, the everyday life of the township and in particular, representations of the self and family histories of black South Africans, to images from the artist's ongoing exploration of religious rituals and of typologies of landscapes, including his most current project Radiant Landscapes, commissioned specially for this retrospective.
> CURATOR: Corinne Diserens
> The exhibition "Santu Mofokeng, chasseur d'ombres – 30 ans d'essais photographiques" is organised by Jeu de Paume, Paris, Extra City Kunsthal, Antwerp, Kunsthalle Bern, and Bergen Kunsthall.
Bergen Kunsthall
Rasmus Meyers Allé 5
5015 Bergen, Noway
http://www.kunsthall.no