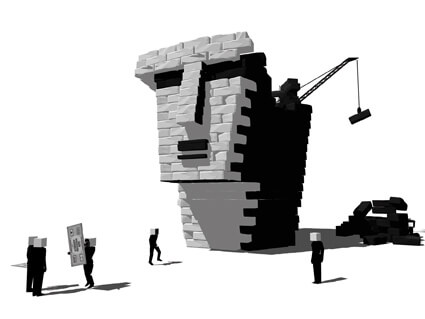 Exhibition
The Angelo Foundation: The Headquarters
Angelo Plessas with Andreas Angelidakis, 2009
From 07 April to 18 October 2009
Jeu de Paume Online
The Angelo Foundation is a sprawling multipart project by artist Angelo Plessas, a container for a series of events and installations ranging from robot poetry readings to an Observatory for Social networking.
In collaboration with architect Andreas Angelidakis, The "Angelo Foundation: the Headquarters" is an attempt to give physical architectural form to this complex set of propositions. As this random multiplex takes shapes, it will be gradually inhabited by the programmatic interventions of Angelo Plessas. These programs could include performance spaces for Robot Poetry readings, psychological evaluations for potential foundation board members, an Angelo Currency conversion stand, a consultation stand for Internet hook-ups, sensual multi-space installations, blog coalitions, sculptures, Facebook applications and various other opportunities and communications. The result will be a combination of architectural proposals together with web applications and spontaneous performances by Plessas and Angelidakis, sometimes taking the form of downloadable objects, while other times they will just appear on the Jeu de Paume website like an ephemeral flash for a few hours. These will be gathered in various media such video, image, links and flash animations under one website to be revealed at the inauguration of the proposal for an Angelo Foundation headquarters multiplex.
The project will be ongoing and constantly under construction for the duration of its presence on www.jeudepaume.org.
With the support of the Fondation Nationale des Arts Graphiques.
In collaboration with l'hôtel Renaissance.