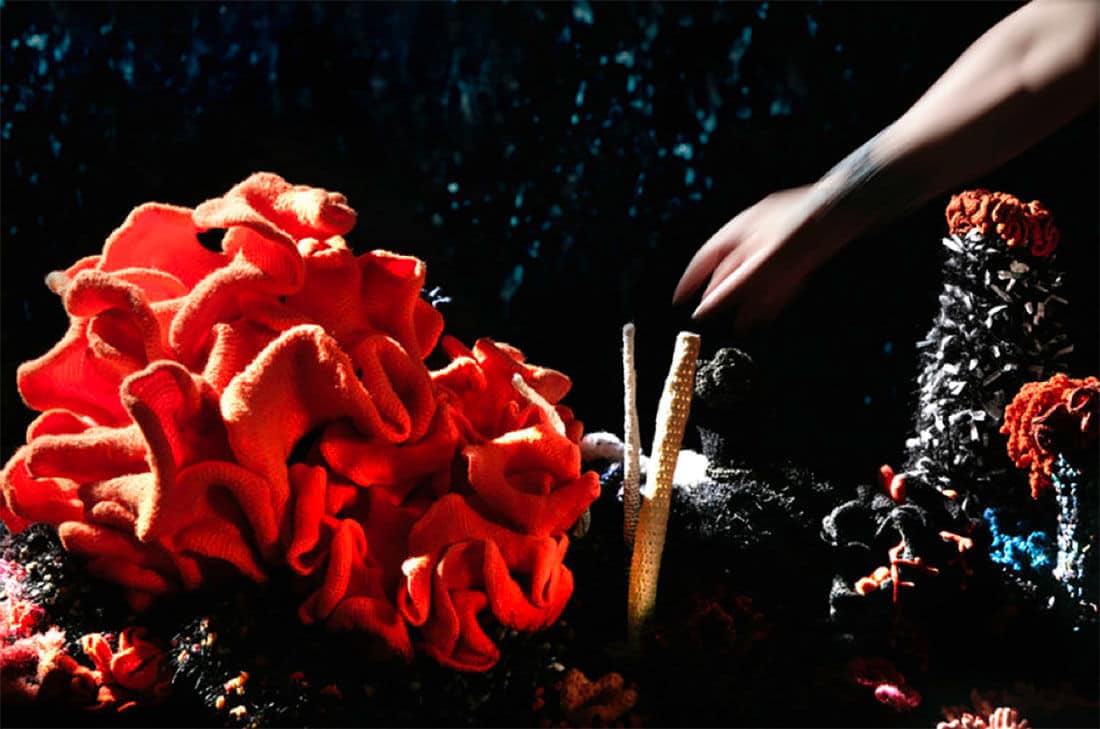 Online creation
THE CROCHET CORAL REEF -THE INSTITUTE FOR FIGURING
As part of "A propos du Chthulucène et de ses espèces camarades"
From 01 October 2017 to 30 June 2018
Jeu de Paume Online
The Crochet Coral Reef  by the Institute for Figuring is part of the project "A propos du Chthulucène" proposed by Maria Ptqk for the Jeu de Paume virtual space.
In Haraway's opinion, coral reefs are a paradigmatic example of holoents, sympoietic entities whose agents become-with each other, a notion that could replace the biological concept of "individual". Thus they might be a manifestation of the kind of relational thinking required by the environmental crisis, which is especially evident in the degradation of ocean life. Affected by acidification and the heating of the water, coral reefs – "ocean forests" – also constitute a living expression of hyperbolic geometry and other mathematical models that can be found both in the forms of some marine and plant organisms and in algorithms and generative software.
The Crochet Coral Reef is situated at that intersection between mathematics and marine biology, together with the community textile arts practised by women in the domestic environment. Inspired by the technique of "hyperbolic crochet", discovered in 1997 by the Latvian mathematician Daina Taimina, this collaborative project presents a taxonomy of the multiple variations of forms created from an initial pattern or algorithm, initiating a public discussion about the future of coral reefs which materialises biological speculation and at the same time reflects on the alliance between diverse practices of knowledge.
The Institute For Figuring
The Institute For Figuring is an organisation devoted to exploring the aesthetic and poetic dimensions of science, mathematics and engineering. Founded in Los Angeles in 2003 by the sisters Christine (poet and writer and member of the Department of Critical Studies at CalArts – California Institute of the Arts) and Margaret Wertheim (science writer specialising in the cultural history of physics), its mission is to increase public knowledge and encourage discussions about science through talks, exhibitions and publications. The Crochet Coral Reef, the organisation's most large-scale project, is expanding through "satellite reefs", local nodes that bring together practisers of hyperbolic crochet all over the world.
http://theiff.org/about/about.html