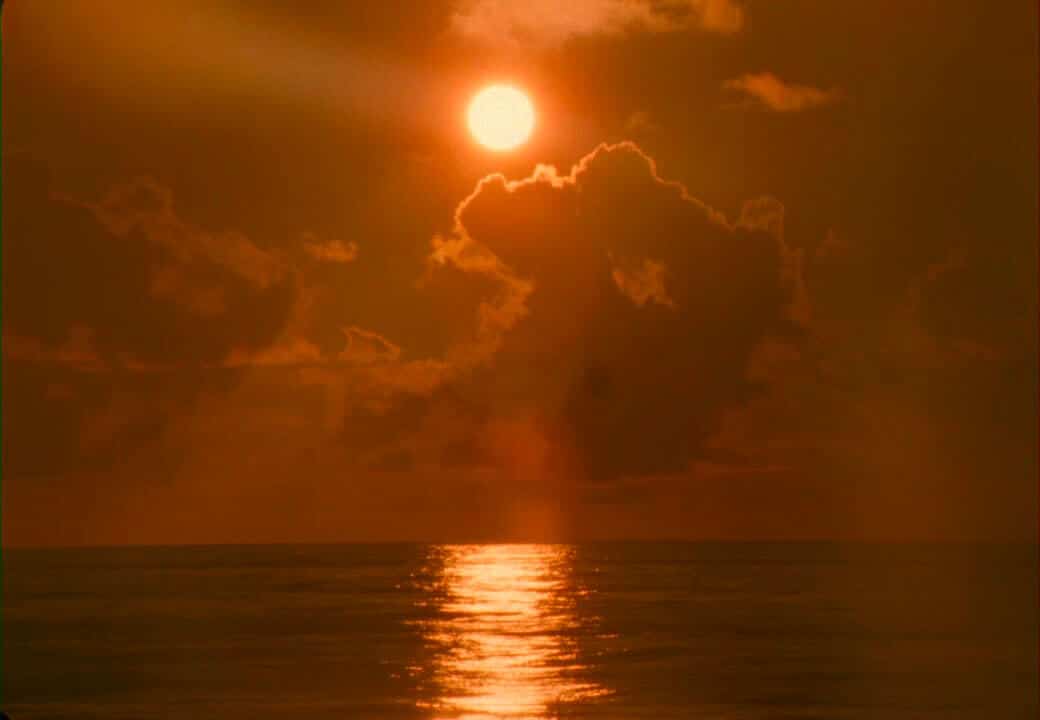 Online creation
THE VOYAGE OUT RADIO SERIES: 2222 ∞ 2022 - ANA VAZ, NUNO DA LUZ
As part of "A propos du Chthulucène et de ses espèces camarades"
From 01 October 2017 to 31 May 2018
Jeu de Paume Online
The voyage out radio series : 2222 ∞ 2022 by Ana Vaz and Nuno da Luz is part of the project "A propos du Chthulucène" proposed by Maria Ptqk for the Jeu de Paume virtual space.
If the spirit of the Chthulucene, definitely situated in the territory of the trouble, calls upon us to "learn to live and die on a damaged planet", The Voyage Out responds to that challenge from a geographically and symbolically mutant location: the archipelago of Ogasawara, in the southern seas of Japan, where a new section of the volcanic island of Nishinoshima has emerged following the nuclear disaster of Fukushima.
The radio serial The Voyage Out, a sound exploration of a film in process and the first part of the trilogy The Blue Jaguar, also emerges as an interstitial proposal that combines an ethnographic register with sci-fi fabulation. At the vertex between the end of one world and the beginning of another there are cyborg navigators who transmit from other temporalities, oceans of data converted into memory, flowerings stimulated by the energy of typhoons, bees adapted to a hostile environment, and varieties of mutant fauna and flora such as the post-nuclear monsters in post-war Japan. Here speculative fiction is a kind of potentia gaudendi – or orgasmic force, in the words of the philosopher Paul B. Preciado – with which Ana Vaz imagines a possible "counter-thinking of disaster" that is both a strategy of repair and one of resistance.
2023 is the third episode of "The Voyage Out Radio Series: 2222 ∞ 2022" and a collaboration with Nuno da Luz featuring Ayami Awazuhara and Hiroatsu Suzuki. Set between the years of 2023 and 2222, the episode interprets a conversation between two Ogasawawa botanists who speculate on the future ecology of the new island of Nishinoshima. In "2023", botanical preservation meets species transplantation in an inter-temporal voyage, where documentary materials become the source of a science fiction tale.
Ana Vaz & Nuno da Luz
Ana Vaz (Brazil, 1986) is an artist and filmmaker whose films and other derivatives speculate on the relations between the self and the other, myth and history from a cosmology of signs, references and perspectives. Assemblages of found or turned materials, her films combine ethnography and speculation by exploring the frictions and fictions printed in the relationships of cultivated or wild environments with their multiple inhabitants. Formed at the Royal Melbourne Institute of Technology and the Fresnoy National Studio of Contemporary Arts, Ana Vaz was also a member of the SPEAP program (Sciences Po, School of Political Arts), a project designed and directed by Bruno Latour. In 2015 she received the Kazuko Trust Fund award presented by the Film Society of the Lincoln Center in recognition of artistic excellence and innovation in her work around moving image.
https://vimeo.com/anavaz
Nuno da Luz (Lisboa, 1984) is an artist and publisher whose work circumscribes both aural and visual in the form of sound events, installations and printed matter. In 2015, he completed the Master Program of Experimentation in Art and Politics SPEAP at Sciences Po, Paris, and founded COYOTE, a cross-cutting collective working on print, film, lectures and other experimental forms.
http://nunodaluz.com