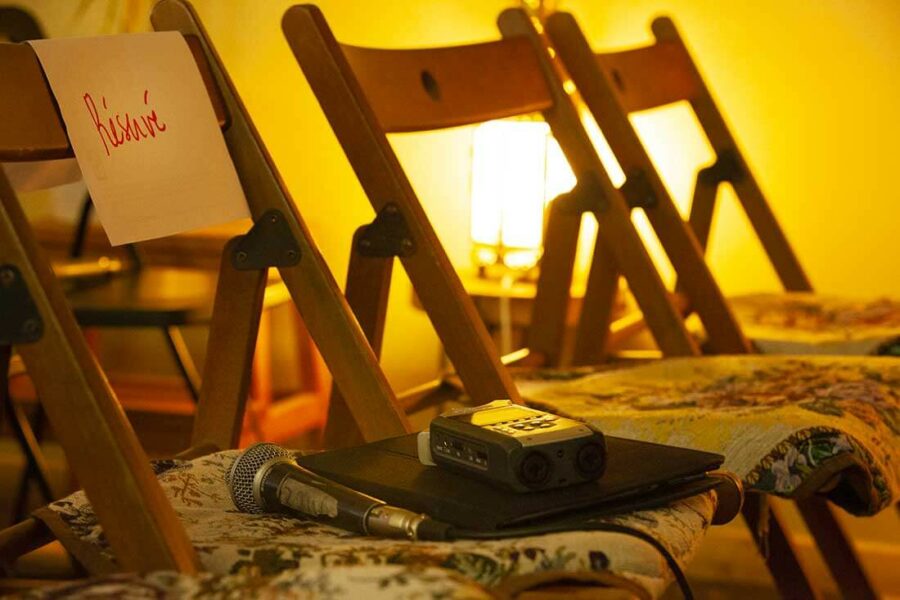 Performance
We dreamt of utopia and we woke up screaming #6
Performance of Yasmina Reggad
We dreamt of utopia and we woke up screaming (named after Bolaño's First Infrarealist Manifesto) is a polyphonic and polyglot ever-evolving performance that intends to explore new ways of 'exhibiting' or of presenting and activating research and archival material.
Against the backdrop of the Cold War's bi-polar tensions of the 1960s and 1970s, Algeria was at the epicentre of utopias emerging from the 'peripheries'. The Algerian capital hosted national liberation movements, political exiles, rebels and disillusioned Westerners militants from all the continents and witnessed the forging of a 'third way' of possible futures.
Inspired from their own experience of finding haven in Cairo, Tunis, Damascus or Nador, and the voice of their revolution granted access on their airwaves, the Algerian government offered militants and dreamers airtime on the newly established Algerian radio (RTA – Radiodiffusion-Télévision Algérienne). These radio broadcasts were intended to direct the liberation struggles from exile, communicate with emergent or ongoing protest movements at home as well as mobilise international support.
We dreamt of utopia and we woke up screaming seeks to highlight turning points in global history and the mapping of the mobility of otherwise invisible actors, 'freedom fighters' that plotted and contributed to avant-garde propositions such as the 'Third World project', Pan-Arabism, Pan-Africanism, the New Economic order or the Non-Aligned movement.
What can radio broadcasting in exile tell us about political activities, the relationship with the host country and notions of legitimacy, loyalty outside the nation-state, hospitality, soft power and moral guidance? To what extent did it contribute to the development of new ideas, the changing of policy and the dissemination of information? How did it shape the writing of contemporary 'transnational and un-national histories'? Finally, how did they inform us of listenership, and of the politics of solidarity manufactured in the acts of listening? 
Yasmina Reggad is an independent curator, writer, researcher and, at times, performer and choreographer. She works in Brussels and Algiers. She holds an MA in Medieval History from the Sorbonne University and is presently curator at aria (artist residency in algiers). Reggad was previously guest curator of Art Dubai International Commissions 2016 and 2017, and exhibitions and projects manager at Delfina Foundation. Her research focuses on the politics of futurity and explores performative methodologies inspired by dance and performance notations. Yasmina Reggad is a Sundance Institute Theatre Programme Fellow 2019.
Duration: approx. 60 min in English, Arabic, Algerian Darija, French, Spanish and Portuguese.
Surtitled: French. Simultaneous translation: English
Author, concept and research: Yasmina Reggad
Performers: Yasmina Reggad and others TBC
With the voices of: Yasmina Reggad, Frantz Fanon, Acerina/ María Espinosa, Salah Badis, Sam Nujoma, Guiniguada/ José Francisco Falero, Ana Filgueiras, Yasser Arafat, Manuel Alegre and a lot others.
Thanks to the support of Centre national des arts plastiques, Arab Fund for Arts and Culture, and Sundance Institute Theatre Program Fellowship/Ucross Foundation.
We dreamt of utopia and we woke up screaming (2016-2019) was previously performed at L'Atelier de l'observatoire, Casablanca; Bétonsalon – Centre for art and research, Paris; Haus der Kulturen der Welt, Berlin; Le Space, Bruxelles; Biennale Warszawa, Warsaw.
Tickets : 5 euros / 3,5 euros
Information: infoauditorium@jeudepaume.org