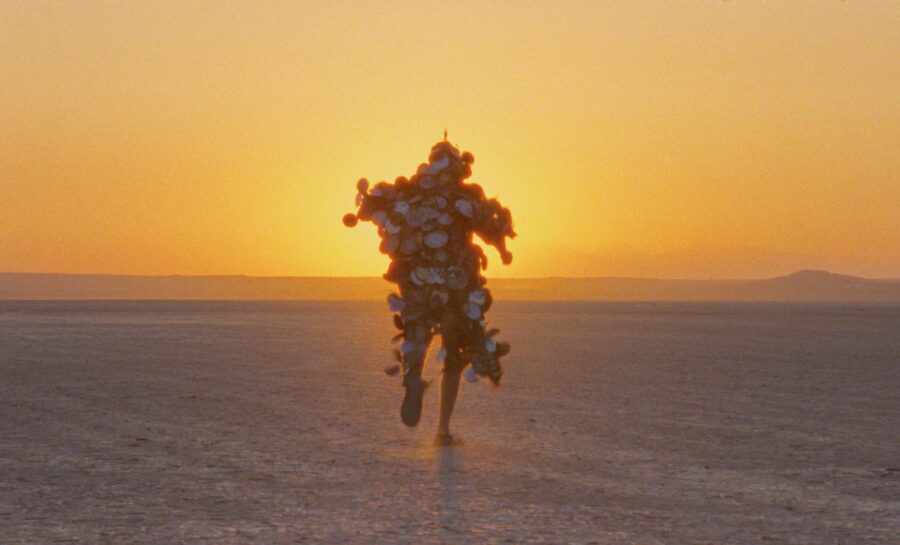 Film cycle
Ben Rivers
Ghost Strata and other stories
From 14 to 26 November 2023
Jeu de Paume – Paris
This cycle celebrates Ben Rivers' influence on contemporary cinema and invites audiences to inhabit his worlds, as well as creating new ones alongside the authors invited for the occasion.
Born in Somerset and living in London, Ben Rivers has produced some forty films in the space of just twenty years. With a large number of collaborations on both sides of the camera (Ben Russell, Anocha Suwichakornpong, Oliver Laxe, Shezad Dawood, Gabriel Abrantes, Mark von Schlegell, Mohammed Mrabet, Rose Wylie, Jake Williams, Céline Condorelli, etc.), Rivers has masterfully created a recognizable universe through his work on film, and through his insatiable curiosity for living beings and communities who have chosen, to varying degrees, to keep society at a distance, and to invent autonomous lifestyles, hermetic worlds, and singular relationships to time.
Trained in sculpture before turning to photography and teaching himself to make and develop 16mm films, Ben Rivers subverts the codes of ethnographic cinema and documentary with humour and inventiveness, producing poetic essays and speculative fables, in response to the uncertainties and disasters of our epoch. An avid reader, he often draws inspiration from poetry, fantasy literature, and science fiction—when he does not collaborate directly with writers—finding material from which to rebuild new worlds on the ruins of the old. Whatever style borrowed, there is always an inherent and unique dimension of the diary or autofiction. In Ghost Strata (2019), Ben Rivers interviews a fortune teller about the direction to take the film being made. She replies that that film, like all his others, will be about him. In House (2005), a floating candle, betraying the presence of a ghost, very clearly takes the shape of a lowercase "I". And in The House Was Quiet, the final part of a trilogy devoted to haunted houses, the voice-over reading of a poem by Wallace Stevens assimilates the film space to the pages of a book and the tranquillity of reading: "The house was quiet, and the world was calm. / The reader became the book; and summer night / Was like the conscious being of the book ."
"The countershot of a world that is unravelling or slipping away is a melancholy individual," wrote Pierre Alferi in his collection on cinema Des enfants et des monstres (2004). One could add that it is always possible, when the world is heading towards its demise, to find it again in fiction, and to use one's imagination for the purposes of survival. This first large-scale French retrospective of the work of Ben Rivers seeks not to summarize one of the most important bodies of work in contemporary cinema but rather to take advantage of its regenerative power. The presentation of each of the programmes within the cycle has been entrusted to a renowned author of fiction, who will read a text inspired by the selection of films screened; a text that also gives its title to the session. All these writings constitute the material for a collection of short stories, published by Fireflies Press. As well as forming a panorama of contemporary literature, of which Ben Rivers is particularly fond, this book and cycle invite the public to inhabit his worlds and create new ones along with him.