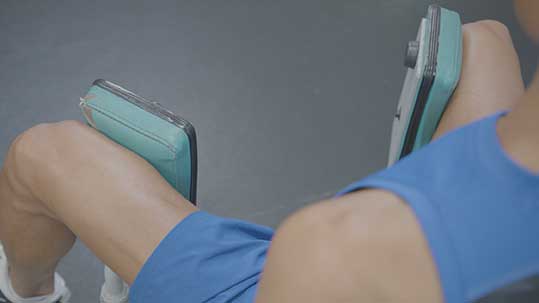 Exhibition
Daisuke Kosugi. A False Weight
Satellite 12 programme
From 15 October 2019 to 19 January 2020
Jeu de Paume – Paris
In film, sculpture, performance and text, Daisuke Kosugi constructs seductive scenarios that entail
an underlying conflict between personal freedom and systems. Whether by portraying how creativity
is mined by the creative industry in a Post-Fordist labour market, or through a narrative of creativity
that is not convertible to economic or cultural measures of productivity, Kosugi unpacks these
struggles through the lives of individuals. His semi-autobiographical films guide audiences through
intimate experiences where the conflict is rendered bodily and emotional. Through layers of fiction
and non-fiction he constructs a self-reflective mode of viewing, a method of storytelling developed from his interest in empathy and the incommunicability of pain.
Daisuke Kosugi (born 1984, Tokyo) lives and works in Oslo. He is co-founder of the Louise Dany initiative in Oslo with the artist Ina Hagen. His work has been presented at LIAF (Lofoten International Art Festival), Norway; CPH:DOX 2017 (Special in NEW:VISION Award), 11th Gwangju Biennale, South Korea (2016); and Malmö Konsthall, Sweden (2016). He was awarded the 2017 French Prize by the French Institute of Norway. In 2017, he was an artist-in-residence at WIELS, Brussels, and in 2018 he was a resident at the Cité Internationale des Arts in Paris. In spring 2019, he created a performance for "Move" at the Centre Pompidou.
Curator: Laura Herman
Partners: The exhibition is co-produced by the Jeu de Paume,
the CAPC musée d'art contemporain de Bordeaux,
and the Museo Amparo Puebla, México.
The Friends of Jeu de Paume,

and the Friends of CAPC
contribute to the production of works in the Satellite program.
Support of the Office for Contemporary Art Norway.
The royal embassy of Norway in France supports this exhibition.
Media partners: artpress, L'Architecture d'Aujourd'hui, Slash-Paris, Souvenirs from Earth TV.
Special thanks go to Drawing Hotel.